According to myth, "After God created men, he shook off the scrap clay from his hands; and the pieces of clay fell on the Aegean Sea. The islands and shores of this region are so awe inspiring because they have been created from the same clay with men." With its thousands of islands of which some are not even shown on the maps and with its curved shores, Aegean Sea couldn't possibly be described in a better way!..
Didim is set on this fantastic geographical part of the world. It is 175 km south from the Turkey's third largest city İzmir; 70 km from Kuşadası and 110 km from Bodrum, which are the two important touristic resorts of the country.
We will talk about the advantages of this position later on. Now, let us first tell you the means to come here. Of course, it would be very nice to come to Didim with a yatch from the sea. But if you don't have a yatch or enough time, you can always come by plane. Milas-Bodrum airport is only 73 km from Didim and it takes approximately 80 minutes by coach; İzmir-Adnan Menderes Airport is 175 km. The Turkish people normally prefer to travel by motorway to Didim, because then they have the privilige of seeing some marvelous sights and ruins on the way.
Didim is one of the peninsulas surrounding the Güllük Gulf (the other is the Bodrum Peninsula). It has a coast of 53 km in total full of bays. Almost all the bays have sandy beaches and allow people to sunbathe and swim freely. Among these bays, the most important one is of course Altınkum (meaning the golden sand), which lies right in front of the hotels region and which is one of the most beautiful and worldwide famous beaches of the Aegean coast. With its very fine sand and its clear blue waters, it highly deserves its reputation.
Though it is in quite a hot climate and on a peninsula, either for its air of very low humidity or the breeze which mildly blows from the land towards the sea all day long, or for the sea which covers your horizon, Didim creates a feeling of infinity and eternity, as well as a feeling of limitless freedom in every visitor. Don't you believe? Then come and live it for yourself!...
There are about 200 touristic accomodations with an approximate 25.000 beds totally, in Didim. Within wide range of different classes of accomodations varying from boarding-houses to hotels, and from camping areas to holiday villages, you will be able to find a place to suit your expectations. Some of these properties work with holiday makers and some are independent and most have pages on the internet.
You may spend your days swimming in any part of the coastline, cruising on a boat in the magical Agean blue waters, doing water sports or joining the daily trips to the nearby archeological or natural sites. You may spend your nights eating delicious foods of the international or turkish cousine in one of the restaurants, and enjoying yourselves in bars and discos where you'll find different types of music and drinks. Of course you have other choices like; shopping at Dolphin Square or after watching the sunset in Mavişehir, eating "mantı", "gözleme" or "İzmir lokması"...
Have you ever seen a forest of stone? We are not talking about rocks in mountany areas, but a man-made "stone forest". Would you like to see it? Then come to Didim and visit the Temple of Apollon. Those columns erected by people who lived 7-8 centuries before Christ and who did not yet know how to mix sand, pebbles and cement to make plaster, have been standing almost for 3000 years.
You will surely experience one of the most special moments of your life. Because at that moment, you will not only be in a foreign country, surrounded by foreign people but also you will be standing in a place shared by different civilizations for 3000 years. And from that moment on you are one of those who shared it. You are in the third greatest temple of the ancient world. That temple is the architectural twin of the Artemision, which is one of the Seven Wonders of the World.
Artemision is no more there to see, but Temple of Apollon still exists with all its majesty. Besides, if your holiday coincides with the festival in Didim, you can even watch a concert here at night time. We have mentioned that Didim is very adventageous because of its position. In fact, many settlements of the Aegean, thus the ancient world, is close enough to visit by daily trips.
For example, the ancient "city of the philosophers", Miletus is 20 km from Didim. One of the seven philosophers of the ancient world, Thales; Anaksimandros who drew the first world map to be known; philosopher and historian Hekaitos; city planner and architect Hippodamos have all lived in Miletus. The city which was originally by the sea, is now in the middle of a plane, due to the earth carried by the Meander River. And that plane is so huge that, the local people, in situations requiring patience and serenity say that "to endure all this, one must have a heart as wide as the Balat Plane".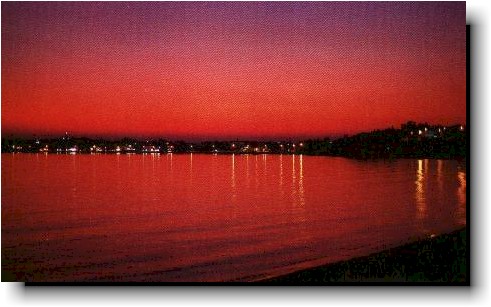 Another "work" of the Meander River is the Bafa Lake, 30 km from Didim. Once beeing a Gulf of the Aegean Sea, again by the earth that the river carried throughout the ages, it is now a lake. You can swim there or watching the many islands on it and the surrounding forests you can eat fresh fish. 15 km from Didim is the pretty holiday resort, Akbük. The green of the forests mix with the blue of the sea to create a picture from heaven. Its coast of approximately 11 km allows all sorts of water sports to be enjoyed. Not over yet! There is the ancient city of Priene, which was a bishopary in the Bizantium period; old Greek village of Doğanbey, with its interesting stone houses; a natural wonder, Karina; another natural wonder Kazıklı bay; Haydar's bay, which makes a foreigner exclaim, "Where am I, in Acapulco?"; and many more, still untold of...
The last but not the least, two more sites to discover: first, Pamukkale (meaning cotton castle) famous for its calcium terraces which really looks like made from cotton. You will admit that nowhere else but in a scenery of snow you can see this much white all around. And the glamorous final! Ephesus, home of the temple built for the goddess Artemis which is one of the seven wonders of the ancient world. With its roads, anfitheatre, library, houses, baths, agoras and even its brothel, Ephesus welcomes you, as vivid as its ancient times. We tried to describe a "picture of Didim" for you.